The 10 Best Fitness Beginner Gifts for or Less
by Caitlin H,
Dec 20, 2021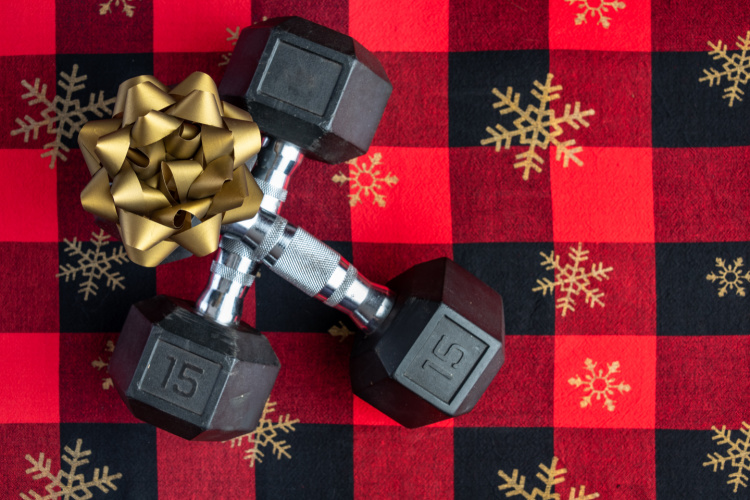 If any of the people on your holiday shopping list have expressed interest in fitness in recent months, or the intention to get into it in the coming year, a fitness-themed gift may be just the thing to show how much you care.
Need some help with those gift ideas? Everything from gift cards to stability balls to hydration tools and more are included on our 10 favorite gifts for fitness beginners for $ 40 or less. Take a peek!

1) Portable Mini Massager
$ 25
Many people are making up for the traveling they aren't able to do during the pandemic. That's why a mini massager from Homedics is just the thing. This battery-operated massager can work to relieve muscle aches following a workout and is small enough to fit neatly into a suitcase.

2) Class Pass Gift Card
$ 30
Speaking of traveling, just because they're spending a lot more time in hotel rooms these days doesn't mean they can't enjoy those group fitness classes. Enter: Class Pass. The Class Pass app gives users the ability to reserve their spot in classes and gyms across the US It's the perfect gift to help them discover new routines (and maybe make a few new friends!) No matter where they are.

3) Stability Ball
$ 28
Home offices are a new norm these days, making this stability ball from TRX a great option to help your loved ones improve core strength and balance while pecking away on a keyboard in front of a screen all day.

4) Double-Insulated Water Bottle
$ 28
Hydration is a critical part of fitness and wellness. The Iron Flask double-insulated, BPA-free water bottle comes in 15 colors and has three lids and two straws included. It's just the thing for keeping water cold and keeping them well-hydrated at the gym or at home.

5) Hydration Waistpack
$ 35
While we're on the subject of hydration, this waistpack from UltrAspire makes carrying that new water bottle (and perhaps a granola bar or two) a comfortable breeze. It also includes a pocket for their mobile device and a key clip so they can have everything handy and accessible on every hike, run or neighborhood walk.
6) Bicycle Lock Chain
$ 40
Bike sales boomed during the pandemic, making them harder to come by and likely a lot more valuable to your loved ones. Help them keep theirs safe with the Kryptonite Keeper 785, an integrated bicycle lock chain bike lock with the quality and security for added peace of mind. Plus, it comes in four fun colors: black, red, gray and purple.

7) Acupressure Mat
$ 30
Achy and tense muscles are a reality after a hard workout. That's why this versatile acupressure mat from Dr. Relief is just the thing for soothing them. It's trigger point therapy is aimed at helping reduce pain, relieve stress and increase energy.

8) Exercise Stretch Band Pack
$ 38
They can train at home or on the go with Power Guidance's pack of bands that offer pull up assistance, stretch assistance and strength training assistance. They work great for people who want to exercise without weights and offer the versatility and color for any fitness enthusiast in your life – beginner to experienced.

9) Letter Board
Motivation goes a long way, especially on those days when you wake up on the wrong side of the bed or have a lot on your plate. This Framed Felt Letter Board from Crate & Barrel makes it easy for them to leave messages of inspiration in plain sight. It comes complete with wooden frame and white lettering and emojis that affix easily to the black felt background. It's got creativity written all over it!

10) Fitness Board Game
$ 30
Working out doesn't have to be boring and awful. That's definitely the case when it comes to the Stack 52 HIIT Workout Game designed by a military fitness guru. They won't need equipment to play this fun and motivating game that targets strength training and cardio simultaneously in a quick 4-minute to 20-minute routine.
Bonus! If you're looking to go all out this year, give your loved ones the gift of healthy meals delivered right to their door with us here at Diet-to-Go. Our chef-crafted food is balanced for portion size and nutrition, plus Epicurious rated us No. 1 for taste among other meal delivery services. Check out our menus today!

————————————————— ———————————-
Author: Caitlin H
Diet-to-Go Community Manager
Caitlin is the Diet-to-Go community manager and an avid runner. She is passionate about engaging with others online and maintaining a healthy, active lifestyle. She believes moderation is key, and people will have the most weight loss success if they engage in common-sense healthy eating and fitness.
Exercise Tips