Top Fitness Trends to Watch in 2022
by Caitlin H,
Dec 27, 2021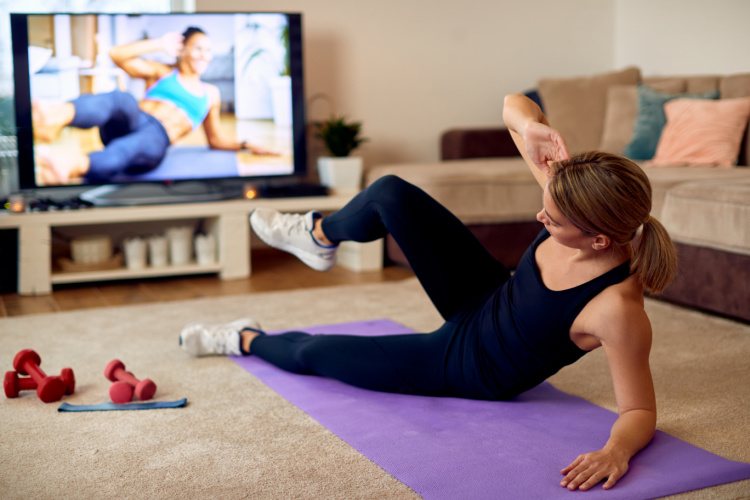 The years 2020 and 2021 forever changed the scope of the fitness world. The closures of non-essential businesses and stay-at-home orders during the COVID-19 pandemic brought with them dramatic changes in how people exercised – and many of those changes are here to stay.
It's time to take a look at the fitness direction is going in 2022. These trends may just give you some new ideas for how to take on your own exercise routines and achieve your goals for healthy living!

Home Gyms and Online Classes
If you're like many Americans, you may have purchased at-home fitness equipment in 2020. In fact, according to market research company NPD, revenue for health and fitness equipment is more than doubled from March to October 2020, to $ 2.3 billion.
The Washington Post reports that at-home gyms are likely to stay here. Add into that surge of online fitness classes that allow for versatility and on-demand fitness that fits better into our busy schedules, and it's a recipe for prioritizing the convenience of home over dashing to and from the gym to make a cycling class or lift weights.
Ultimately, we figured out a way to recreate the gym in our living rooms, and that convenience factor will now be a significant part of our lives.

Bodyweight Catches Up with Cardio
For those of us who found ourselves unable to get their hands on at-home fitness equipment during the pandemic (or just didn't have the space), bodyweight and weight lifting became even more of a priority than cardio. That's because bodyweight exercises are an inexpensive, convenient form of fitness and provide an alternative to expensive fitness equipment.
That's actually a good thing. Bodyweight exercises are extremely important to add to any well-rounded fitness routine, especially for aging adults who need to keep their muscles strong. Find a list of bodyweight exercises you can do at home here.

Wearable Tech
Remember when smartwatches and fitness bands seemed super expensive and more of a luxury? As wearable tech has become more mainstream, it's also becoming more affordable. In fact, Grandview Research estimates that the global wearable tech industry will grow by 13% annually and will rake in a whopping $ 118 billion by 2028.
More of us will look to brands like Garmin, Fitbit, Apple and more to help us track our heart rates, steps and sleep patterns. And that's just scratching the surface. The tech evolves every day, with devices able to analyze our health on multiple faces and help us learn more about how we can improve with each passing model.

Getting Outside
Spending all that time indoors led many of us to appreciate all that nature has to offer. While the US National Park Service reported visits declined by 28% in 2020, that was mainly due to closures due to the pandemic. That trend quickly reversed throughout 2021, with eager Americans traveling to some parks in record numbers.
There's no sign of that slowing down anytime soon. Campground waitlists at many of the nation's most popular parks (think Yellowstone, Glacier National Park and the Grand Canyon, for example) are booked up months in advance.
Meanwhile, many of us took to going on evening walks or weekend hikes during the pandemic, and we will likely continue to do so in the coming years. Plus, getting outside and out of the house isn't just good for fitness levels; it's also good for mental health.

Mindfulness as Essential as Exercise
Social isolation during the COVID pandemic brought mental health to the forefront of everyone's minds. Mental health awareness made headlines daily in news reports, and social media conversations ran rampant with how to support friends and loved ones when most of us could not leave our homes.
The result? Mindfulness and meditation has become a higher priority in our lives. Appinventive data shows downloads of apps like Headspace and Calm skyrocketed in the last couple of years as we looked for guidance on how to prioritize our mental wellness.
This trend will likely continue for years to come as people learn that finding peace within can lead to a whole host of external benefits, such as anxiety and depression relief, too.
Overall, 2020 and 2021 changed the way many of us approach fitness. And those changes elicited positive impacts, such as an emphasis on mindfulness, innovation and getting outdoors that are sure to keep on trending strong in 2022.

————————————————— ———————————-
Author: Caitlin H
Diet-to-Go Community Manager
Caitlin is the Diet-to-Go community manager and an avid runner. She is passionate about engaging with others online and maintaining a healthy, active lifestyle. She believes moderation is key, and people will have the most weight loss success if they engage in common-sense healthy eating and fitness.
Exercise Tips